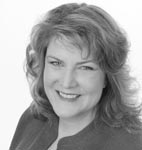 YCS® Group, LLC Appoints Melissa Fisher as New Senior Vice President and CMO
Experienced executive brings more than 20 years of business leadership and marketing expertise to team
KANSAS CITY, MO. – July 11, 2016 – YCS® Group LLC, the nation's largest mobile solutions provider of digital consumer benefits, today announced that Melissa Fisher will join the company as its new Senior Vice President and Chief Marketing Officer.
Fisher brings more than 20 years of experience as a business leader to the company; most recently as the Managing Director for Peak Road Partners, an elite network of C-level executives that help expansion phase companies reach peak performance and profitably by providing consulting and interim-executive placements. In 2013, Fisher successfully championed the sale of Entertainment Publications where she served as Chief Executive Officer.
"We are thrilled to have Melissa join our executive management team as Senior Vice President and Chief Marketing Officer," said Sid T. Shugart, CEO and Founder of YCS Group, LLC. "Her diverse range of expertise, proven track record and passion for promotions and discount programs make her the ideal person to continue to drive our brand's growth and momentum."
Fisher's range of expertise is vast—spanning across business and consumer markets within startup, turnaround and high-growth multimillion-dollar enterprises. She has a well known reputation for innovation, and has served as an advisor for world-renowned technology teams working on coupon, deals and augmented reality promotional applications, including but not limited to: Google, Microsoft and Apple.
"YCS Group's is unique in having the largest database of over 4-million ways consumers can save and being digitally diverse in delivering those discounts through any digital device, mobile application or social platform consumers prefer," says Fisher. "Not only does this create a concierge level customer rewards experience, it also offers YCS Group clients ongoing communication with their customers like no other loyalty rewards platform on the market today."
Fisher is a recipient of a number of marketing, advertising and promotions industry association awards and was honored by the American Business Awards as "a visionary and strategist with extreme savvy in establishing strong negotiating positions, communicating completive value and exploiting new business opportunities." Her experience outside of the office includes being a motivational leader with tremendous integrity, as well as being a highly sought after keynote speaker on marketing and management topics.
About YCS® Group, LLC
YCS® Group is a digital technology solutions enabler that provides local and national digital solution based strategies that drive consumer engagement, loyalty and revenue while lowering customer acquisition costs. YCS® Group provides digital consumer benefits fueled by its intellectual property as well as with white label relationships and other marketing services. To learn more about YCS® Group's digital technologies, visit: www.ycsgroupllc.com.