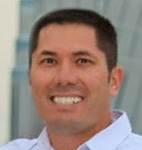 YCS® Group, LLC Appoints Cecil Webb as CTO
Webb brings more than 16 years of industry experience to YCS Group leadership team.
KANSAS CITY, MO. – July 25, 2016 – YCS® Group LLC, the nation's largest mobile solutions provider of digital consumer benefits, today announced the appointment of Cecil Webb to the role of Chief Technology Officer.  In this role, Webb will assist in developing, overseeing, and executing YCS Group's technology road map pertaining to its IP, and focus on the continued delivery of exceptional customer experiences across all platforms.
"We serve a dynamic industry where data, breakthrough technologies and connectivity are hugely relevant trends for the future of the digital consumer industry," said Bob Haefner, President of YCS Group. "Cecil has led development teams for us over the previous years and has demonstrated a unique ability to understand the industry trends and our clients' needs and will continue to be integral in his new role with YCS."
Webb has over 16 years of experience in the technology industry; most recently as founder and principal owner of Webb Technology Group. He has a considerable background in complex data system management, global services project management, software implementation, software design, mobile app development, website development, business development, entrepreneurship, product design and C-level executive industry expertise.
Webb has a proven success being a technology management professional for both large and small organizations. Previously he has worked for companies from Harley-Davidson, General Electric, Ingersoll-Rand, Cummins Inc., HNTB Corporation, Northrop Grumman Corporation and Coca-Cola, Nationwide. Additionally, Webb is a distinguished graduate of Keller Graduate School of Management and a graduate officer of the United States Military Academy at West Point.
About YCS® Group, LLC
YCS® Group is a digital technology solutions enabler that provides local and national digital solution based strategies that drive consumer engagement, loyalty and revenue while lowering customer acquisition costs. YCS® Group provides digital consumer benefits fueled by its intellectual property as well as with white label relationships and other marketing services. To learn more about YCS® Group's digital technologies, visit: www.ycsgroupllc.com.