What Makes a Website Responsive
Where did you search to find this blog?  Your desktop or your mobile device?  The answer to this question can quite possibly set the current trends, influence the industry and marketing standards.  For the sake of this blog, we will leave the social media giants alone as we all know they live mainly on mobile devices. Like most things in life, balance is essential…yes, we're still talking about website usage. What makes a website responsive and optimized is a great question. The answer may not be on-the-go reading but is relevant to your search history. Keep reading to learn more.
Generally speaking, users interact and search on their mobile devices with a purpose i.e. restaurants deals, entertainment coupons, or price comparison while at a retail store or when searching travel deals.  But what's interesting is that when there is more time available, these users may search the same business or location on a desktop. This is where having a responsive website is the meat and potatoes of both customer acquisition and retention.  To emphasize this point a little more, statcounter.com completed a survey; Desktop vs Mobile vs. Tablet Market Share in the US – February 2022.  The results:
| | | |
| --- | --- | --- |
| MOBILE | DESKTOP | TABLET |
| 49.08% | 47.79% | 3.13% |
What makes a website responsive?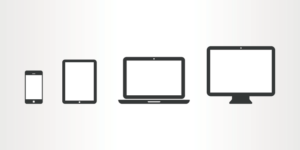 Image by frikota Adapted from xd.adobe.com 2022
A website is responsive when it "responds" to the type of interface the website is being searched on (smartphone, tablet, laptop, or desktop). This type of design should flawlessly respond to size, orientation, and user behavior.  In essence, you want the experience on each device to match, creating a smooth graphical user interface for the user, keeping them interested and loyal.
In the world of web design, YCS Marketing (ycsmarketing.com) and YCS Group (ycsgroupllc.com) are your national marketing experts. We develop award-winning, creative, engaging, e-commerce loyalty programs, not to mention incredibly responsive web identities.
Contact us @ Phone: 816-569-0135