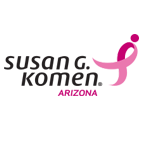 Susan G. Komen Arizona® Releases  Mobile Fundraising App with YCS® Group, LLC.
Technology enabler develops customized mobile fundraising platform for Arizona-based Affiliate
KANSAS CITY, MO (June 22, 2016) — YCS® Group, LLC., a digital consumer benefits leader, is proud to announce the launch of the Susan G. Komen® Arizona App. YCS® Group developed the customized iOS and Android mobile app using its proprietary mobile fundraising technology platform.
"We are very happy to have the opportunity to work with Susan G. Komen Arizona to launch their app and help them reach their fundraising and donation goals," said Sid T. Shugart, CEO of YCS® Group, LLC. "The Susan G. Komen Arizona App provides the organization a unique way to increase fundraising revenue and connect with people who are passionate about their cause by allowing participants to donate through everyday purchases."
The Susan G. Komen Arizona App makes it easy and convenient for supporters to donate to breast cancer research while saving money on everyday purchases from their mobile devices. Supporters can redeem exclusive deals from more than 1,500,000 merchants nationwide for as little as $10, with a portion of the proceeds being donated back to the Komen Arizona community.
"Every donation we receive makes a powerful impact for Komen Arizona's promise to save lives and end breast cancer forever," said Komen Arizona Executive Director Heather Roberts. "This new app is an impressive tool that will help us move our mission forward while also providing great value to our supporters."
YCS® Group's digital technology solutions are customizable for businesses, organizations, professional fundraising institutions, alumni groups and technology providers and can be white labeled accordingly.
About Susan G. Komen and Komen Arizona
Susan G. Komen is the world's largest breast cancer organization, funding more breast cancer research than any other nonprofit while providing real-time help to those facing the disease. Komen Arizona is working to better the lives of those facing breast cancer and educate the local community on the importance of early detection and breast self-awareness. Through events like the Race for the Cure, in both Southern Arizona and Phoenix, Komen Arizona has invested more than $25.3 million in community breast health programs throughout Arizona and $9.2 million in international breast cancer research. For more information, call 602-544-2873 or 520-319-0155 or visit www.komenarizona.org.
About YCS® Group, LLC 
YCS® Group is a digital technology solutions enabler that provides local and national digital solution based strategies that drive consumer engagement, loyalty and revenue while lowering customer acquisition costs. YCS® Group provides digital consumer benefits fueled by its intellectual property as well as with white label relationships and other marketing services. To learn more about YCS® Group's digital technologies, visit: www.ycsgroupllc.com.