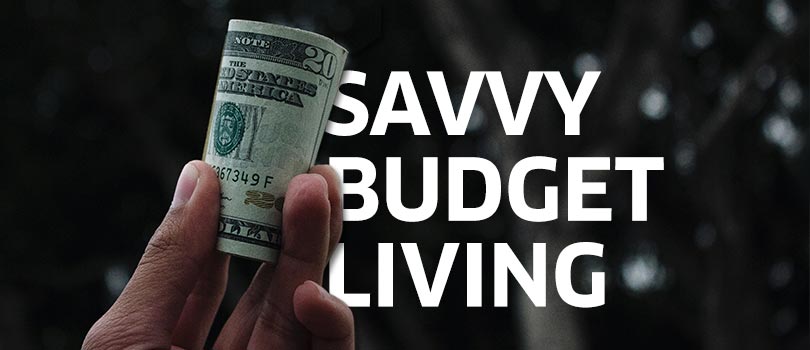 January 2018 has come and gone and by this time, 80% of financial New Year's resolutions have too, which actually isn't too much of a surprise as only a mere 8% of resolutions are successful.  Saving money on life is in style this year and savvy budget living has never looked better.
Consumer spending often decreases during the first quarter, holiday expenses have settled in and that yearly review of actual living expenses have become a reality.  It can be quite a shock to realize how much you actually spend on dining out, travel, or other life necessities like prescriptions or vehicle/home maintenance. The following examples are averages and will vary according to income, location, and age.
The average household income and cost of living is undoubtedly a variable; however, despite your income earnings, it's the non-budgeted little things that take the largest chunk out of your income. Savvy budget living does not mean you have to eliminate fun or grow your own food, it just means becoming a smarter consumer by spending less on the things you enjoy.
The smartphone has returned the power to the consumer.  You can price shop, purchase, sell, or heck, even apply for a home mortgage all with a swipe of a finger.  Consumers across all demographics appreciate being engaged by merchants, finding the most lucrative discounts and being rewarded for their loyalty. So, how do these consumers still live the life they want while being savvy?  They download mobile applications.
There are more apps than are worth counting that offer savings, rewards or discounts.  One app that is in style and is the essence of savvy budget living is, iGiftback™.  iGiftback™ is a unique mobile app that complements any demographic with savings and rewards for Entertainment, Travel, Prescriptions, Insurance, and Retail to name a few…real life savings for real life necessities.  Be afraid to live on a dreaded budget; don't be afraid to live on a savvy budget. Download iGiftback™, available for both Android and iOS.
If you are a business or employer looking for an exciting way to reward to your customer or employees, contact YCS Group, the leaders in digital consumer rewards and savings.