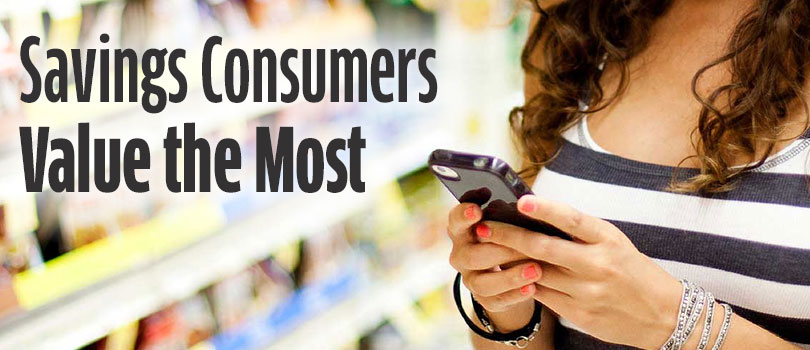 Creating a lifelong customer for your business or brand is every company's goal.  The opportunity for retailers and businesses to build rapport with both new and loyal customers is anchored by the customers perceived product value before price or cost.  This article seeks to help you explore the science behind providing discounts and coupons and the savings consumers value the most.
What do consumers really value?
For the purpose of this article the term value extends beyond the typical consumer value model definition of being monetary only.  We live in a consumer driven time where the amount of frivolous spending has been curtailed by spending based on the influence of social media, ease of product research, price comparison and convenience.  
Based on a study by coupons.com in 2012, the action of receiving and using a coupon created customer happiness as well as a positive experience worth sharing.  These three things: happiness, social impact, and ease of savings are considered the core elements of how value is perceived.
Understanding consumer habits and savings consumers value the most don't require businesses to sacrifice brand integrity while offering savings or to offer promotions that slash revenue completely, but it does require them to appeal to a more savvy consumer.  Consumers feel appreciated when the brands or businesses they love provide location based, convenient digital benefits at the touch of their smartphone.   Not to say that consumers don't like to receive savings in any way possible, but savings simplified add value.
Savings Consumers Value the Most
Simplified, integrated digital benefits and savings partnered with product quality and excellent customer service make up the solution to understanding the basic science behind finding the savings consumers value the most.
Need help creating a customized digital benefits solution to add the savings consumers value the most?  Contact YCS Group: the leaders in digital consumer benefits, savings and rewards.