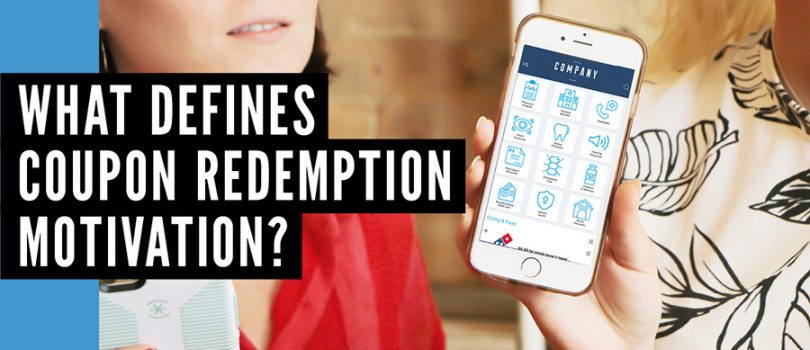 What Defines Coupon Redemption Motivation?
What defines coupon redemption motivation?  Believe it or not, there truly is a psychological piece that plays a part in influencing or motivating a person to redeem a coupon.  With that said, it is absurd to think that only 50% of people redeem deals or coupons, not just before their expiration date, but ever!   This equates to millions of dollars of savings that are buried in the marketers dreaded, non-redemption graveyard. This blog might just provide a little insight into what defines coupon redemption motivation and why you should still offer them.
Coupon redemption is multi-dimensional; it relates to brand loyalty, value, and more recently, ease of use.   It has evolved from the paper coupons you clip out of the Sunday paper, into real-time, relevant push notifications on your mobile device that not only can be redeemed instantaneously, but also can gratify the psychological feelings associated with being savvy, and a smart shopper. Generally speaking, the majority of consumers, especially the millennial consumer, prefer mobile or digital coupons. This delivery is easy, accessible, and tailored to fit their needs.  However, that's not to say that paper coupons are completely outdated or that other generations don't utilize coupons. 
 It goes without saying that this past year has been a roller coaster and not the fun, make you laugh kind, but the scream and get stuck upside down kind…how does this relate to coupon redemption motivation, you ask?  Because going out to eat or even booking travel is about more than just the food or the destination.  It is about having the opportunity to still do these things, and now more than ever, saving money while doing it is more than just dessert.  In today's market, the MVPs of coupons surround deals that focus on food, dining, and travel.  There are many perspectives when it comes to coupon redemption motivation, but for now, we will focus on how to provide these opportunities as an added benefit to your customers, employees, or even to members of an organization.  Working, living, spending, and saving, sounds like coupon redemption motivation to us.  
The takeaway, if you are looking for ways to add benefits and improve morale in today's environment, we understand.  YCS Group is the leader in providing digital benefits, rewards, and coupons.  We specialize in travel and hotel savings, dining and food savings, and quite a few others.  Let us help you define coupon redemption motivation.
Contact us @ 816-569-0135
Email: info@ycsgroupllc.com