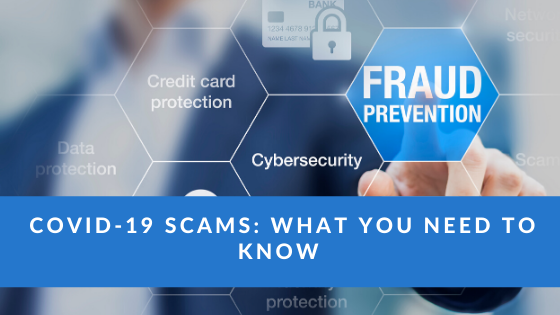 A time of crisis can bring out the best of humanity. Unfortunately, it can also bring out the worst – scammers and con-artists.
While most of the world is pulling together to protect our vulnerable citizens, swindlers are finding opportunities amid the disruption to exploit people through a variety of deceitful tactics.
The Federal Trade Commission (FTC) reports "scammers are taking advantage of fears surrounding the Corona virus."1 Combining fear with false claims (that often appear to be reputable) these scammers are using the fog of the global health crisis to perpetrate cyber crimes that may ultimately separate people from their money.
At a time when people need to keep themselves, their families, and their finances safe – what can we do to protect ourselves against coronavirus?
Be especially wary of phishing emails related to "cures"
While sheltering in place helps to prevent the spread of the virus, it also makes us particularly reliant on the internet and digital forms of communication. Knowing this, a variety of internet-based scams have deployed sophisticated and far-reaching tactics via email and through fake websites, with Info security Magazine reporting a 667% increase in phishing scams in less than a month.2 Be especially wary of any emails claiming to sell "cures" for the virus or emails appearing like shipment notifications.
Be very suspicious of any uninitiated contact related to your federal check
Now that there is a federal economic relief plan in place to provide qualifying citizens with government funds, consumers are fielding contact from scammers with empty promises of being able to secure their check faster.3 As displayed on the IRS website, federal checks will be processed based on your previous tax filings, so no additional action is required.4 Do not give anyone your bank account information and do not send anyone money through PayPal or other online financial systems who are promising you faster access to your federal funds.
When in doubt, take steps to determine reputability
Many people are dealing with unemployment claims right now, which is only handled through each individual state.5 Be wary of any person contacting you about the status of your unemployment claim and when in doubt, find a reputable phone number and inquire before offering any personal information like your social security number or home address. Similarly, do not click links of websites claiming to help you secure your unemployment insurance money. Instead, find a phone number and call them.
Becoming a victim of identity theft and falling prey to a coronavirus scam is the last thing anyone wants to be worried about during this unprecedented time. By remaining especially vigilant to what you're clicking on and who you are giving your information to, you can help make sure scammers don't capitalize on your financial health while the world is focused on protecting its physical health.
Working with YCS Group, provides an opportunity to receive a discount on Identity Guard®. Now more than ever, protect yourself with the most powerful, comprehensive personal cyber-security and save as much as 33% off the regular rate depending on the plan you choose.
Sources
1 Federal Trade Commission. "Consumer Information
2 Barracuda Network Research. "Baracuda Sentinel." March 2020.
3 USA Today. "Coronavirus stimulus check scams are out to swindle you out of $1,200: What you need to know." March 2020.
4 Internal Revenue Service. "Get Coronavirus Tax Relief." March 2020.
5 National Public Radio. "Lost Work Because of Coronavirus? How To Get Unemployment, Skip Payments and More." March 2020.