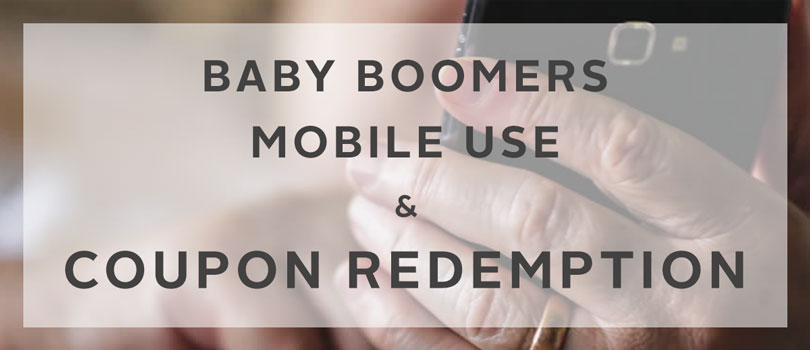 Baby boomers or individuals between the ages of 49-67 have an estimated population of 74.9 million people, being surpassed only by the Millennials in the recent US Census Bureau Study.  It is obvious that the baby boomer population will continue to decline in the coming years, but here's why capturing this generation's attention is crucial; they have the money.  According to a Nielsen study in 2014, baby boomers accounted for 41% the Mass Affluent Population, or those with liquid assets between $250,000 and $1 M and control 26% of the total US Wealth, (nielsen.com, 2014).  Baby boomers, mobile use and coupon redemption are interesting topics because it is not a one size fits all answer, but it is definitely worth discussing.
Present day consumers, not divided into demographic groups, are impacted and motivated by coupons, often only going to businesses that offer a discount.  Baby boomers tend to be more skeptical than the millennial or generation Z consumers when it comes to giving up personal information in exchange for a coupon, but do admit to clicking on an advertisement that has a coupon or promotion attached if viewed on their smartphone, (nielsen.com, 2016).
Baby boomers are slower to adopt the newest technology, but are just as savvy and comfortable as there younger successors with mobile ownership and use.   While not all baby boomers have smartphones, both their smartphone and mobile phone use increases each year, (emarketer.com, 2015).  Their usage habits tend to be intentional vs social.
So, what is the strategy to engage the baby boomer population with mobile use and coupon redemption?  It is simple, don't leave this population behind.  Generational strategies that address the personal engagement of each baby boomer on their mobile device with relevant or important coupons mixed with the ease of functionality and redemption is the key.
Need help engaging baby boomers?  At YCS Group, we can provide you with a set of robust digital solutions to better engage all consumers, but specifically, the YCS Group platform can be customized to your needs to engage, retain, and grow baby boomer business/loyalty for your brand.  YCS Group specializes in SaaS providing digital consumer benefits with customized and branded solutions for loyalty programs, fundraising solutions, APIs, integrations, retention solutions, rewards, increase sales, communication efficiency, and no cost value-added programs.  
Please visit us at ycsgroupllc.com for a demo today!
Sources: Nielsen,
Digital Enablement for Retail Banking
, November 25, 2014.
Nielsen,
Generations React Differently to Mobile Ads
, August 23, 2016.