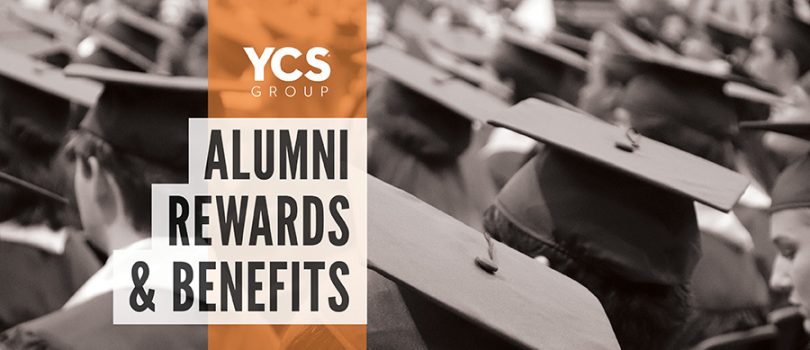 Alumni Rewards and Benefits
There is a certain amount of pride associated with engaged alumni.  They wear school colors, attend events, provide resources and donate to what matters most to them, you! Indeed, having a large alumni organization equates to being one of the coolest alma matters around, and now more than ever, it's time to show these alumni how much they mean to you. Providing alumni rewards and benefits that are dedicated to them is a powerful, value-added tool to have in your toolbox. This increases new member enrollment, engages the originals, and most importantly, provides exclusive savings.
How do you get access to alumni rewards and benefits? YCS Group® features the largest and most comprehensive alumni rewards and benefit savings imaginable and they are all packaged in customizable software. A glimpse of our alumni rewards and benefits packages include:
Travel: Travel both near and far with access to unpublished wholesale rates for hotel, flight, and rental cars.
ID theft: The world has access to everything. Providing ID protection to prevent theft offers peace of mind.
Dining: Enjoying a meal out doesn't have to just be for special occasions.  With both local restaurants and national chains to choose from, your kitchen won't mind the break!
Prescription: Savings for both humans and pets with access to thousands of nationwide pharmacies.
Telehealth: 24/7 access to a licensed care provider for minor illnesses, Rx refills, and monitoring of some chronic illnesses.
Finances: There is a lot to manage in life; student loans, buying a home and navigating a budget.  Certified financial counselors are just a phone call away.
As an alma mater, you are proud of your alumni's accomplishments and talents, reward them for it!  Contact YCS Group,® let us help you stay as dedicated to your alumni as they are to you.
Phone: 816-569-0135
Email: info@ycsgroupllc.com